Week beginning 18th May
Hello everyone!
I hope you are all doing well, and enjoying the activities we have given you. We have been delighted to see so many emails and pictures, they have made us smile, so keep them coming! We love seeing what you are doing at home.
So this week we are thinking all about 'Under the Sea' creatures.
Mrs Twist is going to read a lovely story called 'The Rainbow Fish'.
Next you can join Cat from CBeebies, as she goes on an underwater adventure.
https://www.bbc.co.uk/cbeebies/watch/magic-door-under-the-sea
(Click on the link above and you can join in - there's a video underneath the main one practise the moves)
Rainbows
Reading the rainbow fish has reminded us all about rainbows. We have them on our school uniforms don't we? Do you have on on your window - they are a sign of hope aren't they? They help us remember all the people who are working hard and helping us to get rid of the virus.
There's a link below to a template, if you would like to colour or paint a rainbow - or you could paint your own! (ignore the part on the sheet about 'All about me' - you can cut this bit off). We would love to see any pictures or paintings you have done of rainbows, so please send them in. Here is a song to help you remember all the colours of the rainbow.
Can you spot any CBeebies presenters?
https://www.bbc.co.uk/cbeebies/watch/sing-a-rainbow-with-evie
Rainbow Fish Collage
Using the template below, have a go at making a rainbow fish. You could use material, paper, wrapping paper, shiny paper, crayons, paint or felt tips. (Anything you have at home)
Here are a few pictures to help...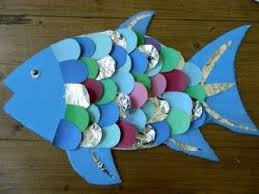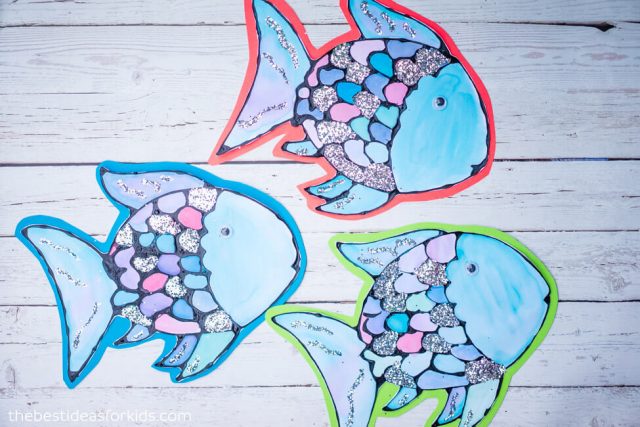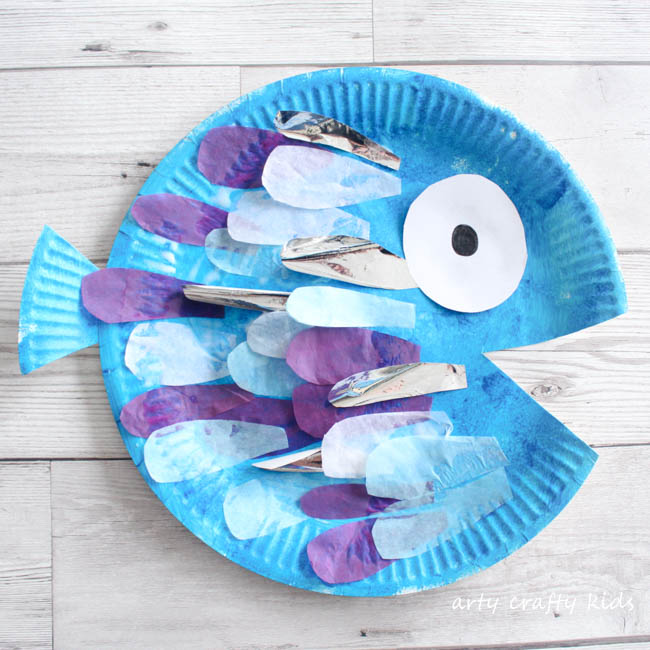 Counting
Have a go at some counting...
There is an 'under the sea' counting sheet attached at the bottom of you would like to have a go, there is also a number line to help you remember what the numbers look like.
Have a go at singing '12345, Once I caught a fish Alive'
Or you could line up some cars, dinosaurs or teddies to count. Maybe you have some sea creatures in the bath you could count? Don't forget to use one number name for each item as you count them. You could also have a number hunt around your house. How many numbers can you find? Here's a clue to start you off - find a clock, where else are there numbers in your house?
Writing
This week we would like the children to have a go at writing their name, or mark-making. This could be on paper with a pencil, or in sand, flour, glitter, sugar or with chalks.
There is a document attached below called 'letter writing worksheets' you could print off the ones needed for your child's name and have a go at writing each letter. Don't forget we need a capital letter at the beginning! Or you could write the letters for your child to copy underneath . Sometimes they find it easier if you write it in a pale colour such as yellow then they can trace over the top.
If your child would prefer to make marks and have a go at wiggly lines, shapes and zig zags then that's great too! There is a link down below to some mark-making patterns they can copy.
Again this doesn't have to be on paper- you can use sand, flour, glitter, sugar or chalks. . You could even use a paintbrush to 'write' on the wall or fence outside with water.
There is also a link to some 'Under the Sea' patterns that they can go over with a pen or pencil.
If you do use a pencil or pen - don't forget those beaky fingers! Ask the children what this is!
Dance
Also included below, is a link to some movements cards. You could look at them on the screen or print them out. We would love to see a video of you moving like all the different sea creatures. You could get your whole family involved!
Phonics
If you would like to do some phonics this week, there is a game attached. Matching initial sounds. You could just do three at a time (as per sheet) Practise saying the sound the letter makes (rather than the sound name) e.g. 'd' should be a short 'd' sound, not 'duh' or 'dee', then find the matching picture.
Parents - Here is a video to help parents practise how we say the sounds. (Don't worry about the rest of the content of this clip e.g. flashcards etc, it's just to show how we would pronounce each sound at school). So when saying any sounds at home with your child you should model this pronunciation. Do not worry if your child cannot recognise any sounds yet, as we would have been doing this at Nursery this term.
Here is a video of Auntie Mabel finding out all about fish...
Click on the link below and you can learn all about different sea creatures with the Octonauts. There are lots to click on.
https://www.bbc.co.uk/cbeebies/watch/playlist-octonauts-creature-reports
Reading
I wonder if you have any books at home with fish or sea creatures in? Have a look and see if you can find any. Look at them together with your family, and send us a photo. Or any other story books you like looking at or listening to at home.
We hope you all have a lovely week and enjoy all the activities. Don't forget to send any photos or videos to our school gmail account. We really love seeing them.
This is the address
snaith.primary2020@gmail.com
Take care
From Mrs Twist, Mrs Schmidt, Mrs Mckiernen and Mrs Kellett