Upcoming PTA Events
Autumn Term
Scarecrow Family Trail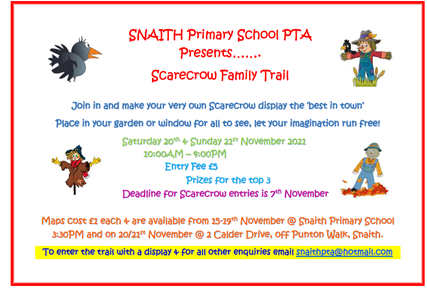 Bags2School
Thank you for supporting and bringing in your unwanted clothing.
Christmas Hamper Raffle
If you have any unwanted gifts, toiletries, non-perishable food items, bottles etc we would be very grateful for your donations which you can bring to school.
Co-op Grant Great News - we have been selected for a co-op grant. Please remember to choose Snaith PTA as your preffed charity with the Co-op.
Facebook
PTA Facebook - We now have our own new Facebook page - Infor PTA Snaith Primary . This is purely to share information, all posts will be assessed by administrators before they are released.
PTA Email
We still have our own PTA email address should you want to get in touch - Snaithpta@hotmail.com
Join The PTA
We are always looking for new members and support. If you would like information on how to become a member of the PTA, or to support and share ideas please do not hesitate to contact us.