Nursery
Home Learning
For our current 'Home Learning', please see the tabs to the right. Each week follows a topic and has activities to click on as well as activities to print out if you wish.
Don't forget to send any photos of your lovely work and play to our school email address snaith.primary2020@gmail.com Thank you.........have fun and we hope to see you all very soon.
From Mrs Schmidt, Mrs Twist, Mrs Kellett and Mrs McKiernan
General Information about Nursery:
In our Nursery we learn through play. We have indoor and outdoor areas which are set up to help us practise and develop our skills in all areas of learning.
We are a happy and friendly Nursery with a strong emphasis on developing personal and social skills. This enables the children to feel happy and secure and receptive to learning. We value and treasure the uniqueness of each and every child. Their emotional wellbeing and happiness are vital; all children will learn best when they feel safe, secure and happy and this is our core priority.
We always aim to work closely with parents and carers to really get to know each child and understand their individual needs. Parents are always encouraged to come and talk to us about anything we may need to know......a lost favourite teddy at home can make a big difference to a child's day at Nursery!
There are 7 areas of learning in the Early Years Foundation Stage (EYFS):
Personal Social and Emotional Development
Communication and Language
Physical Development
Literacy
Mathematics
Understanding the World
Expressive Arts and Design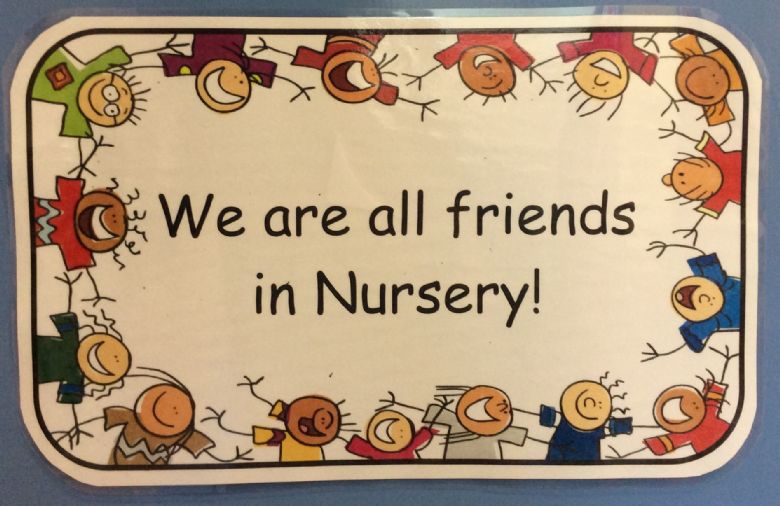 Organisation of Nursery
During the session, the children "freeflow" between the different areas of nursery and are supported in their learning by the staff in those areas. Sometimes staff will set up activities for the children to do and encourage children to take part (adult-led activities). Most of the time the children will select their own resources and play activities in line with the Early Years Foundation Stage guidance (child initiated activities)
Children can access areas of provision both inside and in the outside area. Children are always encouraged to look after the resources and tidy up after themselves and to share and play collaboratively where appropriate. There is a group time of approximately 15 minutes during each session where children listen to stories, sing rhymes and songs, have circle time and play simple phonic and number games. They also have a group story just before going home.
Nursery Dinners
Freshly cooked hot meals are provided for the children who stay for their dinner at nursery. The meals are cooked onsite by our wonderful cook, Mrs Lockwood.
The menus rotate so children eat a wide range of meals. We are able to cater for a range of special diets.