Newsletters
Headteacher: Mrs Helen Calpin
Chair of Governors: Mr Chris Emsen
Email: snaith.primary@eastriding.gov.uk
Website: https://www.snaithprimary.org.uk/
Newsletter Friday 14th January 2022
Reading Representatives
This week we appointed 'Reading Representatives' in each class. Their job is to investigate new and exciting books on the market, co-ordinate the views of their classmates and place an order each month for new reading material to go into their class library. The aim of this is for the children to enjoy choosing new/high quality books, continue to promote a love of reading and add to the schools lending library. We are also hoping that this will run alongside a new blog club for children and staff to share their favourite reads.
Mini Police get to work!
This week the newly appointed constables undertook work on Stranger Danger. They are in the process of producing a display for school and next week will share a virtual presentation for the school about what they have been learning.
Flu Vaccination – Catch Up Session
If your child was unable to have their Flu nasal vaccination in November when the immunisation team was last in school and you have previously consented; IntraHealth will be returning to school on Tuesday 18th January.
If your child has since had the Flu vaccination elsewhere please notify IntraHealth by calling 0333 3583397 option 2 option 1 to remove them from their list.
Covid-19 Update
As the number of people in our local and school community testing positive for COVID19 remains high we continue to monitor this carefully and take steps to minimise transmission.
If we are made aware of a case of COVID19 in your child's class we will send an email to notify you and ask that you remain vigilant and take necessary precautions.
If there are several individuals within a class testing positive we will send a letter to inform you of this and the Local Authority advise that all children take daily tests for 7 days.
For all classes it is recommended that children continue to test regularly (twice a week) in order to detect any asymptomatic individuals and reduce transmission.
We particularly ask that where possible you test children before the start of the new school week as the weekend provides some natural transmission break.
For anyone who has tested positive, the rules have changed regarding the isolation period. From Monday, individuals can test from day 5 and once they have two consecutive negatives tests, 24 hours apart they may stop isolating. (see diagram below)
We are aware of the difficulties people have encountered when trying to access LFD tests. We have been advised that the best way to access these is via the online portal: https://www.gov.uk/order-coronavirus-rapid-lateral-flow-tests or at the local chemist and library. (We did request the DFE to make LFT kits available for primary schools to distribute to parents for children but have been informed that there are no plans for this and that local distribution sites and the online ordering portal should be the method of securing these.)
A full overview of the guidance is attached to the end of this letter.
Kingswood Residential – Year 6
A reminder the second payment instalment for Kingswood is due by the 28th January.
Diary Dates
Tuesday 18th January – Flu vaccination catch up
Friday 28th January – School closed to children (teacher non-contact day)
Friday 18th February – School closes for the half term holiday
Monday 28th February – School re-opens to children
COVID MEASURES. We know that the changing rules and advice can be challenging to keep up with. Please see a summarised version of the main points below.
Testing for COVID19
LFD Tests
Regular testing (twice per week) with LFD tests can help identify asymptomatic individuals and minimise the spread of the virus. Asymptomatic means people who have the virus but do not have symptoms.
From Tuesday 11th January, anyone who tests positive on LFD test does not need to take a PCR test. Instead they should isolate and report the positive LFD result.
PCR Tests
If anyone develops symptoms of the virus they should isolate and request a PCR test.
Symptoms:
While a range of symptoms have been widely reported the NHS website continues to state :
The main symptoms of coronavirus (COVID-19) are:
a high temperature – this means you feel hot to touch on your chest or back (you do not need to measure your temperature)
a new, continuous cough – this means coughing a lot for more than an hour, or 3 or more coughing episodes in 24 hours (if you usually have a cough, it may be worse than usual)
a loss or change to your sense of smell or taste – this means you've noticed you cannot smell or taste anything, or things smell or taste different to normal
Close Contacts of anyone testing Positive for COVID19:
People who are fully vaccinated, or children and young people aged between 5 and 18 years and 6 months, identified as a close contact of someone with COVID-19, should take an LFD test every day for seven days and continue to attend their setting as normal, unless they have a positive test result or develop symptoms at any time.
It remains the responsibility of Test and Trace to inform individuals if they are identified as a close contact. However, when we become aware of a case of COVID19 in school we will inform parents of this via email to enable you to be vigilant and undertake regular testing.
To reduce the spread in school we have already taken steps to:
limit contact to class groups (and phonics groups for Reception, Y1 and Y2 groups)
and continue to have enhanced cleaning, ventilation and promote good hand hygiene.
For additional guidance on
Close contacts of someone testing positive for COVID 19 in your household
https://www.gov.uk/government/publications/covid-19-stay-at-home-guidance/stay-at-home-guidance-for-households-with-possible-coronavirus-covid-19-infection
Close contacts of someone testing positive for COVID 19 who you do not live with.
https://www.gov.uk/government/publications/guidance-for-contacts-of-people-with-possible-or-confirmed-coronavirus-covid-19-infection-who-do-not-live-with-the-person/guidance-for-contacts-of-people-with-possible-or-confirmed-coronavirus-covid-19-infection-who-do-not-live-with-the-person
Management of cases and close contacts
Cases: Information up to and including Sunday 16th January - The self-isolation advice for people with Covid-19, you are able to end self-isolation on or after 7 days, following 2 negative LFD tests taken 24 hours apart. The first LFD test should not be taken before the sixth day.
From Monday 17th January People self-isolating with COVID-19 will have the option to reduce their isolation period after 5 full days if they test negative on both day 5 and day 6 and do not have a temperature. Individuals who are still positive on their rapid lateral flow tests must stay in isolation until they have had 2 consecutive negative tests taken on separate days. (see diagram below)
Anyone unable to undertake LFD tests should isolate for the full 10 days.
Vaccinations
The Government and Local Authority continue to strongly advise all those eligible to receive a vaccination, including booster vaccinations, to do so.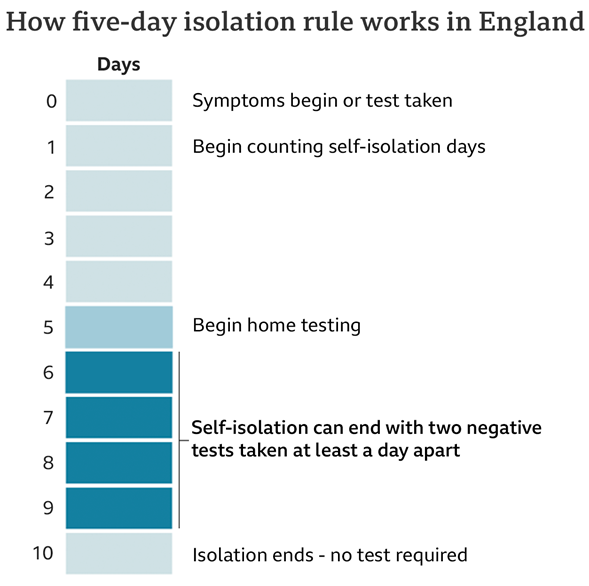 School Community Notices
SNAITH & COWICK CHARITY IN NEED
This charity has, in various forms, been in existence for over 100 years. It is a little known charity and with this in mind, the Trustees have decided to give it wider profile. The charity is in place to help with one-off requests from an individual or family who find themselves in need of help for reasons beyond their control. It can help with on-going hardship, for a limited period of time. Special one-off payments can also be made to relieve sudden distress. The charity can also help if you have difficulty affording educational resources, or travel to a place of study.
Applicants must be a resident of Snaith, East or West Cowick. Please click on the link below to download the application form. Forms are also available from the Library and The Marshes Surgery.
https://www.snaithandcowicktowncouncil.com/2654-2/