La La Land comes to Snaith!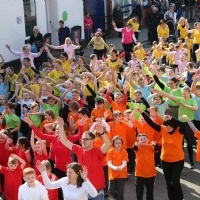 Oh my goodness! What an amazing afternoon we all had today.
A special message from Emma at Comic Relief Media
Thanks so much for having me yesterday, I can't tell you how impressed I was by everyone involved! Snaith Primary is clearly a very special school and you should all be very proud of what you pulled off yesterday.
Thanks,
Emma
What an amazing afternoon we have had! We would like to say a huge thank you to everyone who contributed, danced and supported us, from the Snaith and Cowick Town Council, local businesses to Mr Radmall and Anna from Anna's dance academy for their showbiz expertise!
I have to say the biggest thank you and well done to our children. We are incredibly proud of them. I can't begin to put into words how fantastic they were. Their behaviour and manners today, on top of their dancing skills, were phenomenal. They were simply outstanding!
Miss Todd is busily working away to edit it all together ready to share our video on Comic Relief day but in the meantime, please click here to take a look at some of the great photographs of the day.
If you would like to make a donation click here for our JUST GIVING page.