Job Swap Day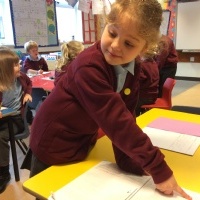 I am sure that your children will have been telling you about the exciting day we had on Tuesday this week, when all children in school were involved in undertaking the jobs normally done by the adults.
The activities they were involved in ranged from office work; answering the phone; checking invoices; banking and working on the school budget, to taking lessons, delivering assemblies, cleaning the school and undertaking a safety audit to name but a few! Click on the link here to see some of the photographs from this exciting day.
The purpose of these activities was to provide children with a deeper understanding of how our school works and gain a greater appreciation of the different roles people have, as well as maybe helping some people decide on their own career plan.