Safety Squad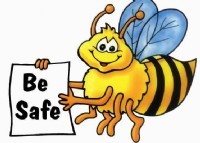 This week the Safety Squad have launched a new initiative to encourage all of us to take a little more notice of our great outdoors, while staying safe and being mindful of stranger dangers.
SAFE PARKING
Thank you to everyone who is parking safely and legally when dropping off and collecting children. I am aware that the traffic warden has been along the street this week, and in the interest of children's safety please ensure that the zig-zag lines are kept clear to ensure pedestrians can cross safely.
Next week we will trial the layby being used as a drop off only bay, from 8.35am once the bus has gone. This is strictly a no stopping or parking area, allowing children to get out of their car and walk along the path to the playground. We will monitor this to see if it helps.